Coalition Business 
The job posting for the new Central Wisconsin Tobacco Free Coalition Coordinator has been closed. Applications will be reviewed and interviews conducted in the coming weeks. We will keep you posted when a new hire is made.
Our Interim coordinator, Samantha Pinzl, was interviewed on the recent FDA report to lower the nicotine level in cigarettes, to view this interview click here.
Tobacco News
The Food and Drug Administration (FDA) made an announcement about wanting to reduce the nicotine in cigarettes to make them less addictive.  If this proposal is successful, it would be the first time the government has tried to get Americans to quit beyond warning labels or increased cigarette tax. This could take years to enact.
The second announcement made by the FDA is the four year delay the regulation of e-cigarettes and other tobacco products.
FDA commissioner Scott Gottlieb said, "The overwhelming amount of death and disease attributable to tobacco is caused by addiction to cigarettes — the only legal consumer product that, when used as intended, will kill half of all long-term users." The comprehensive plan aims to eventually wean smokers off conventional cigarettes and steer them towards less harmful alternatives such as vaping.
There are some concerns with delaying the regulation on e-cigarettes, but Gottlieb said it is because more time is needed to set the proper foundation for supervising such products.
Read more on the FDA report click here.
Other Tobacco News
Oregon Will be Third State to Raise Tobacco Age to 21
Oregon Legislature has taken bold action to protect children from tobacco addiction by voting to prohibit the sale of tobacco to anyone under 21. Lawmakers gave final approval to the bill Thursday July 6th, 2017. Governor Kate Brown has indicated she will sign it into law. Oregon will be the third state in the nation to increase the tobacco age to 21, joining California and Hawaii.
What are the benefits?
Increasing the tobacco age to 21 will reduce tobacco among youth and young adults – age groups when nearly all tobacco use begins and that are heavily targeted by the tobacco industry. About 95 percent of smokers began smoking before they turned 21. Increasing the tobacco age will help to combat the industry's effort to target younger people when they are at a critical time in their life and may move from experimenting with tobacco to smoking tobacco on a regular basis. In Wisconsin alone, an estimated $155.8 million dollars are spent each year on marketing their deadly and addictive products.
A 2015 report by the National Academy of Medicine, formerly, Institute of Medicine, stated that by increasing the tobacco age to 21, adolescents and young adults who start smoking will significantly decrease. This will create immediate and long-term benefits for the nation's health.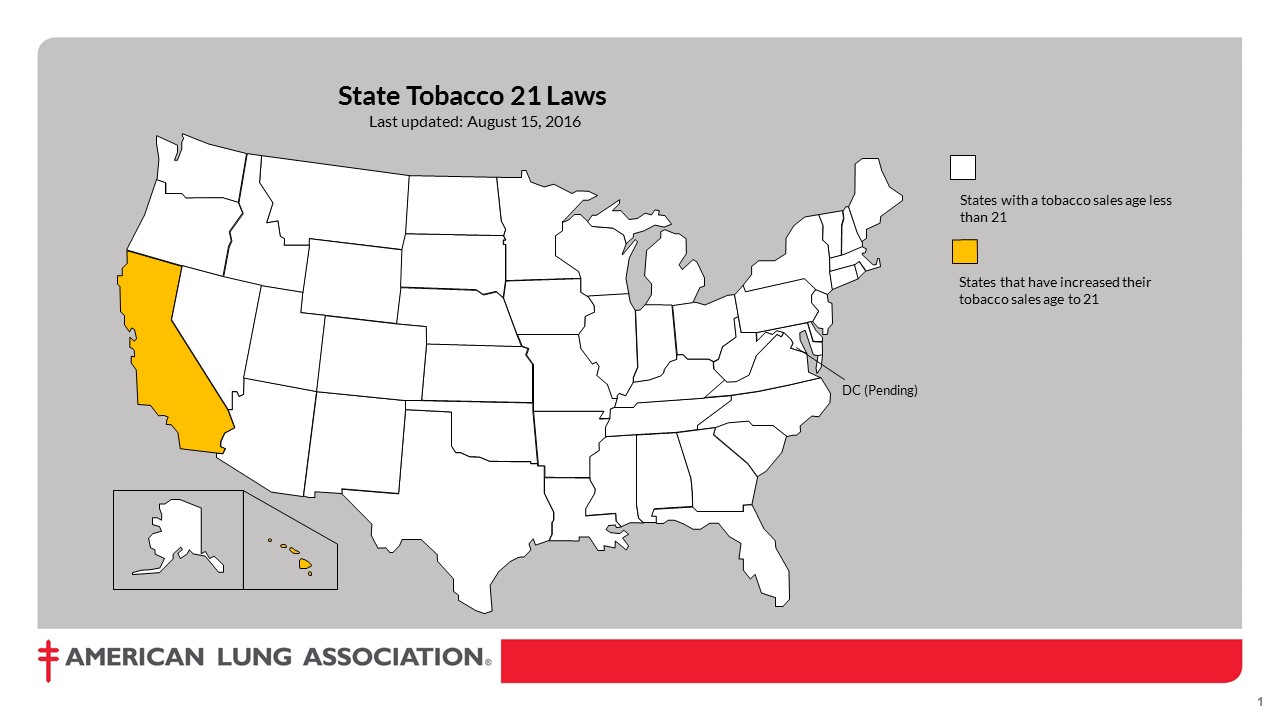 San Francisco to Ban Sales of Vaping Flavored Liquid
City officials in San Francisco unanimously approved the ban of sale for flavored nicotine-laced liquid used in electronic cigarettes and flavored tobacco products. There are a variety of flavored tobacco products including cotton candy, banana cream, and mint. Flavored tobacco entices children into a lifetime of addiction. Supervisor Malia Cohen, who sponsored the bill states, "We're focused on flavored projects because they are widely considered to be a starter product for future smokers."  The law will take effect in April 2018.
Read more about San Francisco's ban on vaping flavored liquid click here
America's New Tobacco Crisis: The Rich Stopped Smoking, The Poor Didn't
After decades of public action through campaigns and lawsuits, most of the country has quit smoking, saving millions of lives and leading to great reductions in cancer.
Unfortunately, Americans who are poor, uneducated, or live in rural areas may not fall under those who have quit smoking. Hidden among the steady decline of smokers in recent years, the socioeconomic gap has continued to grow, despite smoking rates in adults falling to just 15 percent.
Among the nation's less-educated people – those with a high school equivalency diploma – the smoking rate remains above 40 percent, according to the Center for Disease Control and Prevention.  By nearly every statistical measure, researchers say, America's lower class now smokes more and dies more from cigarettes than any other Americans.
This gap between classes has many health consequences; many cigarette companies are refocusing their marketing on lower socioeconomic communities. Nonprofit groups have reworked their programs in hopes to reach this marginalized group.
To read more about this issue and how policies can make a large impact on tobacco control in health equity, click here.